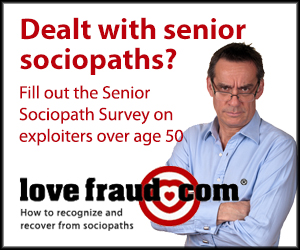 What does emotional and psychological abuse look like? Here are a dozen examples provided by respondents to the Lovefraud Senior Sociopath Survey:
1 . Any arguments that happened as a result of me bringing up something he had done or said were always flipped to be my fault and I would end up crying and apologising and he would withhold affection.
2 . He would tell me that I was perfect and then if he didn't like my behavior he would say I needed to change
3. Twist words, made me feel that it was my fault, would be over the top flattering then create a false sense of trust then use information to put me down. Would make me feel anxious, never knowing when he'd turn up, would ask me to do things, but if I refused, was made to feel stupid. Emotional distressing.
4. Control food in the house, what I would be allowed to eat. Made me go to the gym with him every day. I got too thin but he liked me that way. He made all the terms in the relationship. Would triangulate me with old girlfriends and young pretty girls telling me I'm jealous and insecure.
5. Immediately after asking a question, he would bombard me with more and take the conversation in a different direction. Then he would point out my "flaws" and say we needed to "work on" my "development and growth." He avoided answering questions by humiliating me for asking them.
6. Did not like to go out or travel, I was not allowed to do anything without his permission. He would dismiss all my opinions and treat me like I was self centered and selfish. Especially if I tried to stand up to him.
7. Verbally abusive, temper tantrums. Silent treatment when he did not get his way. Cursed and yelled a lot.
8. He would never answer a question. He would keep information from me about his schedule/trips. He would tell his son to ignore me. He would lie. He would take my things and when I asked him if he had seen them he said no. Then my things would be back in their place and he'd tell me I was crazy and suffered from mental health problems.
9. Silent treatment, pouting, verbal abuse
10. Made me feel that if I didn't look, behave, act like he wanted, others would think less of me. He was a loner, only wanted to be with me. I thought it was because I was special to him. It was because he was distancing me from everyone else – removing my support.
11. Always had an answer for everything. It was never his fault; he would always manage to twist everything. Would make you feel you are the guilty one even when you aren't.
12. Intermittent reinforcement, gaslighting, stonewalling, smear campaign, goading, lies upon lies, belittling, humiliating, ghosting (not answering texts, emails, calls), missing important appointments, the list goes on….
Examples like these will be part of my next book, Senior Sociopaths — How to Recognize and Escape Lifelong Abusers. More than 2,000 Lovefraud readers completed the initial senior sociopath survey, providing a wealth of information about their experiences with sociopaths over the age of 50.
A total of 512 respondents described romantic relationships with people who were already over 50 when they met and turned out to be disordered. Ninety-one percent of the respondents said they endured emotional abuse, and 84% were psychologically abused.
I'm still collecting data on dealing with senior sociopaths. If you have tips or advice for others on coping, escape or recovery, please complete the survey. Click the link below.