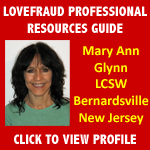 By Mary Ann Glynn
Lovefraud readers are invited to join a free, live online chat on my website, Support Group for Partners in Destructive Relationships with Narcissists, Sociopaths, Psychopaths.
Participants to get support for what they are going through in their experiences in the relationship with a sociopath, leaving the relationship, the struggles of keeping to the no contact rule, and the aftermath of healing, in a safe non-judgmental place. It doesn't matter where you are in this process, you are welcome to participate to any extent you like.
Even if you don't need support right now, your experience can help others. It is anonymous. You enter the chat as a Guest# and don't even have to give your name if you choose. The chat room dialogue is deleted as soon as the group is ended.
To join the group, go to Support Group for Partners in Destructive Relationships. On the home page in the Services section, click on "online live chat group," and it will bring you to the chat room as a Guest#.