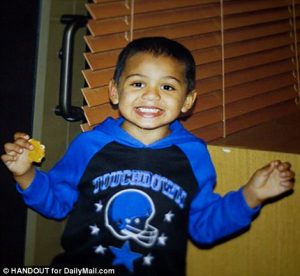 Seven-year-old Adrian Jones was systematically beaten and tortured by his father and stepmother. When he finally died, his father fed him to pigs.
This has got to be the worst story of psychopathic abuse of a child that I've ever seen.
The parents, Michael and Heather Jones, have both been sentenced to 25 years in prison for their crimes.
This case also points to the ineptitude of the child protective services in Kansas and Missouri. The child told caseworkers he was being beaten, but they let him go back to the family.
It is an outrage from start to finish.
'My daddy keeps hitting me in the head': Adrian Jones, 7, told authorities that he was being beating by his evil father and stepmother TWO YEARS before he was tortured to death and fed to pigs, on DailyMail.co.uk.