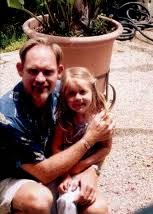 Cameron Brown didn't want his daughter, didn't want to pay child support and hated the girl's mother. So he threw little Lauren Sarene Key, age 4, off a cliff in Rancho Palos Verdes, California.
Brown was convicted of first-degree murder in Los Angeles Superior Court on Wednesday. It was the third time he stood trial for the crime, which happened in November 2000. Two previous juries deadlocked over whether he committed murder or manslaughter.
Mother's tears of joy after her ex is finally convicted of throwing their daughter, 4, off a cliff 15 years ago because he didn't want to pay $1,000-a-month child support, on DailyMail.co.uk.