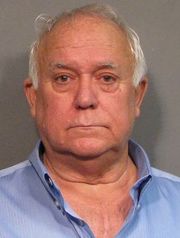 Late night. Husband and wife on the way home from a night out, pull into the highway rest stop. Husband gets out of the car to check the rear passenger side tire. Thunk. Husband is knocked out. Bang. Bang. Wife in the car is dead; shot twice in the back with a .45 caliper gun. Her body is staged and her purse is thrown out the window.
Sound like a movie? It is well, actually it is a TV miniseries based on author Joseph McGinniss' book Blind Faith. Most importantly it is the real life story of how Robert Marshall hired a hit-man to kill his wife, Maria Marshall. The hit man was Larry N. Thompson.
According to authorities, Thompson was charged with pulling the trigger of the gun that fatally wounded Maria Marshall in 1986, but because of a technicality with his alibi, he was acquitted. For 30 years, the case was an open file for investigator James A. Churchill.
Recently, Thompson, who is in a Louisiana prison for other crimes, confessed to killing Maria Marshall. Unfortunately because of double jeopardy laws, Thompson cannot be retried for the murder. Robert Marshall was convicted of contracting his wife's murder and is serving a life sentence.
Why did Larry Thompson confess to the crime now 30 years later? Probably so he could get credit for it. He can't be tried in court again, so he wants everyone to know he got away with murder.
Larry Thompson not only murdered Maria Marshall, when he was found innocent, he tried to sue the Ocean County prosecutor for $25 million for improper arrest. Typical sociopathic behavior.
Hitman finally confesses in 'Blind Faith' murder, investigator says, from the Press of Atlantic City.