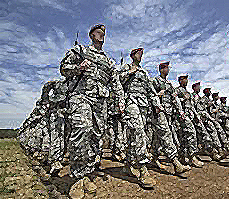 Tracee Douglas, 49, of Australia, was getting lonely as she cared for her elderly mother. So she went online looking for love. And she found a handsome soldier who wanted everything in life that she wanted including opening an orphanage in Vietnam.
They fell in love. He sent her an engagement ring. And then he asked for money.
Well, as Lovefraud readers know all too well, the guy was a complete and utter fake, and it did not go well for Tracee Douglas.
But she fought back. And now she continues to fight back, helping other people who have been caught in military romance scams.
A Lovefraud reader heard Tracee Douglas being interviewed on the BBC. Listen to this shocking story here it's the first 16 minutes.
Scammed by my online love, on BBC.co.uk.
More information on the same topic:
Scamming the scammers: online romance victims fight back, on SMH.com.au.