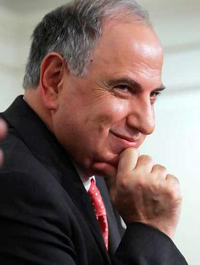 I remember thinking back in 2004, as I was learning about psychopaths, that an Iraqi politician named Ahmed Chalabi fit the profile.
Chalabi was charming, smart and persuasive. He was connected to top officials in the administration of President George W. Bush. Chalabi provided the "intelligence" that Saddam Hussein was stockpiling weapons of mass destruction, which was the public justification for the United States invasion of Iraq.
Well, he lied. No WMDs were found.
By 2004, it became apparent that Chalabi had manipulated America get what he wanted the war. But Chalabi did not apologize. He said that the ends removing Saddam Hussein from power justified the means.
My psychopathic ex-husband used to say that: "The ends justifies the means."
Ahmed Chalabi died of a heart attack last week.
In the meantime, 4,493 Americans were killed in Iraq, and thousands more wounded. Estimates of civilian war deaths generally range between 100,000 and 200,000.
Maybe, if government officials knew how to recognize a psychopath, none of this would have happened.
Chalabi legacy haunts Iraq, on Philly.com
Ahmed Chalabi, Iraqi politician who lobbied for U.S. invasion of Iraq, dies at 70, on WSJ.com
Postscript: Ahmad Chalabi, NewYorker.com
Ahmed Chalabi died a few days ago.