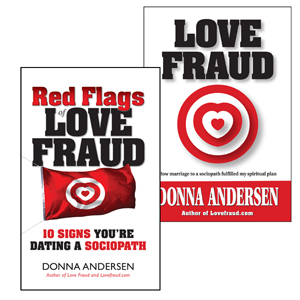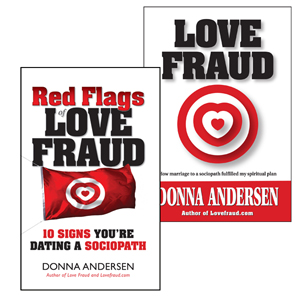 Lovefraud.com launched in July 2005, so we're celebrating 11 years online! In honor of our anniversary, you can buy two of Donna Andersen's printed books for the price of one.
Red Flats of Love Fraud – 10 signs you're dating a sociopath
This book reveals, for the first time, the tactics of social predators who pursue romantic relationships not for love, but for exploitation. You'll learn how sociopaths seduce their targets, why it's hard to escape the relationships, and how you can protect yourself.
Love Fraud – How marriage to a sociopath fulfilled my spiritual plan
Love Fraud tells two parallel stories. The first is the true story of Donna Andersen's marriage to a sociopathic con artist, James Montgomery a revealing look at the true behavior of a sociopath. The second story is a spiritual journey. Seeking to understand why her life was ravaged, Donna learned that her soul planned the entire debacle to experience and then release the devastating betrayal, so that she could return to wholeness.
For this anniversary offer, choose:
Love Fraud plus Red Flags of Love Fraud
Two copies of Red Flags of Love Fraud
This offer is only for printed books. Buy them for yourself. Or, buy one for you and for someone who should read it. You get both for the price of one just pay additional shipping. All books are autographed by the author.
From these books, you'll learn the real truth about sociopaths and other exploiters. You and people you care about need this information.