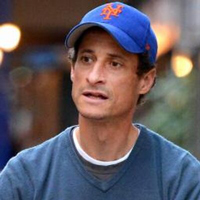 Anthony Weiner, former Congressman and former candidate for New York City mayor, was caught again sending photos of his junk to a woman who was not his wife. This time, his 4-year-old son was in bed with Weiner when he texted the photo.
His wife, Huma Abedin, senior aide to Hillary Clinton, has finally dumped him.
The New York Post broke the story.
Anthony Weiner sexted busty brunette while his son was in bed with him, on NYPost.com.
More coverage of the Anthony Weiner saga on the New York Post.
Previous Lovefraud coverage:
Open letter to Huma Abedin: You're married to a sociopath
Sexual predators for mayor: Anthony Weiner and Bob Filner
Lawrence O'Donnell asks Anthony Weiner: What is wrong with you?