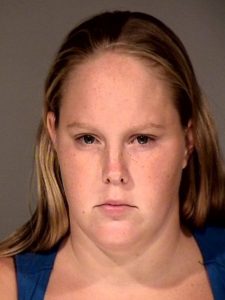 Samantha Allen, 29, was sentenced to death on Monday for killing her cousin. Ame Deal, 10, was locked in a plastic storage box because she stole a popsicle — and that's where she died.
John Michael Allen, Samantha's husband, will also stand trial for the murder.
But being locked in the box was just the final incident of abuse endured by Ame Deal. According to AZCentral.com:
Ame was forced to eat dog feces, crush aluminum cans barefoot, consume hot sauce and get in the storage box on other occasions. She also was kicked in the face, beaten with a wooden paddle and forcibly dunked after being thrown in a cold swimming pool, investigators said.
Three other relatives — Ame's father, aunt and grandmother — are in prison for abusing her.
This story is absolutely horrifying,
Arizona woman, 29, who locked 10-year-old cousin in trunk, sentenced to death, on FoxNews.com.
Phoenix woman faces trial in death of girl who was locked in a box, on AZCentral.com.
Story suggested by a Lovefraud reader.