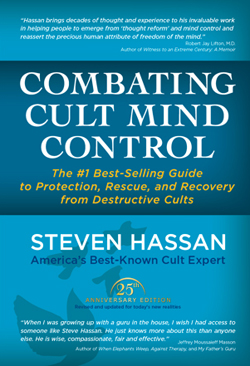 Cult leaders are sociopaths on steroids. For this reason, Combating Cult Mind Control, by Steven Hassan, is packed with information that can help you understand how you, or someone else, fell under the spell of a sociopath, and how victims can escape and recover.
The author himself was once a member of the Unification Church (Moonies). He rose to the leadership ranks of the organization, until, with a twist of fate and the help of his family, he escaped. After his recovery, Hassan made it his mission to educate people about cults and help victims leave them.
Combating Cult Mind Control was originally published in 1988, and is recognized as one of the best books on the topic. Hassan has just come out with a 25th anniversary edition, revised, updated and more relevant than ever.
He includes a discussion of Islamic terrorists Hassan believes many jihadi organizations are political cults masquerading as religious movements.
Another phenomenon that Hassan says has increased dramatically since his first book came out is the "mini-cult" groups of two to 12 people.
Many romantic involvements with sociopaths could be viewed as a mini-cult.
Mind control
Hassan says cult leaders engage in "mind control," which he defines as, "any system of influence that disrupts an individual's authentic identity and replaces it with a false, new one."
People involved with cults often undergo radical personality changes that is what Hassan means by the "false identity." This also happens to people involved with a sociopath. I've heard from many family members of victims who say that they don't recognize the person anymore. You may have felt this about yourself.
So how does this happen?
BITE model
Hassan explains the process through his BITE model. This stands for control over:
Behavior
Information
Thought
Emotion
Behavioral control means regulating a person's physical reality: where the victim lives, what they eat, what clothes they wear, what they can do, whether they can work, who they can talk to. This is exactly what many people involved with sociopaths have experienced.
Information control means withholding facts or providing false information sociopaths are experts at this.
"Information provides the tools with which we think and understand reality," Hassan says. "Without accurate, up-to-date information, we can easily be manipulated and controlled. Deny a person the information they require to make sound judgments and they will become incapable of doing so."
The key strategy for cult (and sociopath) information control, Hassan says, is deception.
Thought control means indoctrinating the victim to accept a cult's teachings. In the case of a sociopathic relationship, it could mean convincing the victim to accept and believe the sociopath's story.
Emotional control means manipulating and narrowing the range of the victim's feelings. This is usually accomplished through instilling fear and guilt, although the victim usually doesn't realize that fear and built are being used to control them.
Another method of emotional control, Hassan says, is keeping people off-balance "praised one minute and tongue-lashed the next."
The result? "This misuse of reward and punishment fosters dependency and helplessness," Hassan says.
Looking for talent
A common misconception is that people who fall for cult leaders or con artists (essentially the same thing, in my opinion) are stupid or weak. We know that's not the case many of the people I've spoken to who found themselves involved with sociopaths were educated and accomplished.
Hassan points out that cults intentionally try to recruit educated, active and capable people. They look for talented professionals to manage their affairs and make them seem respectable. Sociopaths look for strong, caring individuals for exactly the same reason.
Hassan also says that there is no typical profile of a cult victim. He writes:
Anyone, regardless of family background, can be recruited into a cult. The major variable is not the person's family but the cult recruiter's skill and the recruit's life situation.
Looking for information
So how does a cult recruiter accomplish this? Hassan writes:
The recruiter wants to draw as much information as possible from the potential convert, to determine the most effective way to bring them into the group. An effective recruiter knows how to home in on potential weak spots (called "˜finding the ruin' in Scientology). These may involve a boyfriend or girlfriend, parents, family members, job, or school; the death of a close friend or relative; a move to a new town, and any other significant transition or dislocation. An effective recruiter knows how to make the target comfortable, so more willing to disclose highly personal and confidential information.

Meanwhile, the recruiter reveals as little as possible about themselves and (especially) the group, unless it is absolutely necessary. Most of the information comes from the person being recruited. This unbalanced flow of information is always a signal that something is wrong.
Sociopaths also find out as much as possible about their targets. They ask you questions and listen very carefully to your answers. You may feel like the sociopath is hanging on your every word because he or she is crazy about you. The reality is that the sociopath is looking for the deepest places within you in which to set the hook.
Helping people escape
Hassan has been helping people escape cults for years. He's developed a protocol for how to do it, which he describes in the book. He does not recommend forced deprogramming. He does recommend that the victim's family and friends unite to help the person leave.
In the book he also includes practical ideas for how to help someone who is stuck in a cult.
Here's what doesn't work: Trying to argue the person out of the involvement using a condescending, confrontational approach.
Instead, Hassan says the objective should be to "do everything in your power to create the necessary conditions to help the cult member change and grow." He writes:
Notice that your objective should not be rescuing the person from the group. People leave destructive cults as a natural consequence of changing and growing. If people are focused on positive growth, there will be less resistance, and everyone's efforts will be more effective.
His book includes a strategy for how to do this
Aftermath
Cult members often have psychological difficulties after they leave the organization, Hassan says. One of the most common issues is depression. He writes:
Many ex-cult members describe their experience with a cult as if they had fallen deeply in love, and given every ounce of their love, trust and commitment to someone, only to find out that the person was a false lover and was just using them. The pain and the sense of betrayal is enormous.
That, of course, is the exact experience of a person who has joined a "cult of two" by falling in love with a sociopath.
I strongly recommend this book. It's important that we all know that dangerous cults are operating among us just as dangerous sociopaths live among us.
Combating Cult Mind Control goes a long way towards explaining how people, perhaps including ourselves, come under the influence of sociopaths. It can also help us protect ourselves, our family and our friends.
Combating Cult Mind Control is available on Amazon.com.