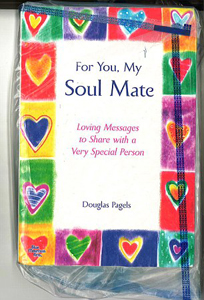 If you meet someone who seems to be your soul mate on the Internet, who proclaims love and then asks you for money, watch out. It may be a professional Nigerian Love scammer, quoting lines from the book called, For You, My Soul Mate.
Seriously.
Two Nigerians living in the UK, Ife Ojo, 31, and Olusegun Agbaje, 43, were each sentenced to almost three years in jail for scamming a woman out of £1.6 million.
How did they do it? By following the manuals.
When they were arrested, the men had two books in their possession:
For You, My Soul Mate Loving Messages to Share with a Very Special Person, by Douglas Pagels
The Game Penetrating the Secret Society of Pickup Artists, by Neil Strauss
It is particularly frightening to think about the book, For You, My Soul Mate, in the hands of a sociopathic con artist. Just go to Amazon.com and use the "Look Inside" feature to see the easy-to-copy heartfelt messages:
When I am with you, I know that I am in the presence of someone who makes my life more complete than I ever dreamed it could be.
So if your new Internet love interest sends you emails that sound like Hallmark cards, the sentiments may not be authentic, but copied from a book.
Lonely heart woman is duped out of £1.6m by dating site conmen armed with a copy of pick-up artist 'bible' The Game who posed as a wealthy divorced engineer to trick her into handing over money, on DailyMail.co.uk.
Dating website fraudsters jailed over £1.6m scam, on BBC.com.