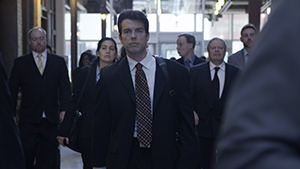 Not all psychopaths are killers. Some are leaders in business, politics and other areas who act without conscience, have an inordinate need for power, prestige and wealth, and who are charming, manipulative and ruthless.
A show by Canada's CBC-TV, The Psychopath Next Door, provides a chilling and provacative examination of those in our midst who know right from wrong, but feel entitled to do what they want. The show is available online in Canada, but not in the U.S.
Interviewed in the show are experts like Dr. Robert Hare, who developed the Psychopathy Checklist Revised, and Dr. Paul Babiak, a psychologist from New York City who says that "psychopaths have traits similar to ideal leaders, they love chaos and hate rules, so they tend to thrive in the fast-moving world of business."
Link supplied by a Lovefraud reader.
The Psychopath Next Door, from Doc Zone.