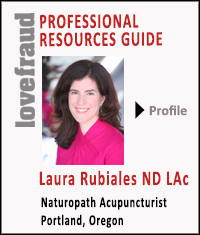 Editor's note: I am pleased to welcome Laura Rubiales, ND, LAc, to the Lovefraud Professional Resources Guide. Dr. Rubiales is a doctor of naturopathy and a licensed acupuncturist.
What experience have you had dealing with sociopaths or other disordered personalities—personally, professionally, or both?
Unfortunately, I have dealt with sociopaths and other disordered personalities both personally and professionally. The field of medicine, along with many other professional fields where people have authority over others, seems to attract a high rate of narcissistic personality disorder. I also got conned by a sociopath presenting as my soul mate and I was deeply humbled by how well these characters can come across.