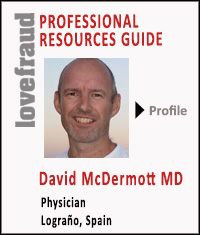 Lovefraud would like to welcome our newest member of our Professional Resources Guide. Here's a Q&A with Dr. David McDermott to help you get to know him.
By David McDermott, M.D.
What experience have you had dealing with sociopaths or other disordered personalities—personally, professionally, or both?
While working as a hospital doctor some of my bosses were psychopaths, I got caught in a marriage by a psychopath and when that relationship broke up I was recruited into a personal development cult where I lost 10 years of my life. I was number 2 in the cult for most of those 10 years and I often sat beside the leader while he was doing group trainings and he taught me how he was changing peoples' beliefs, emotions and behaviors.