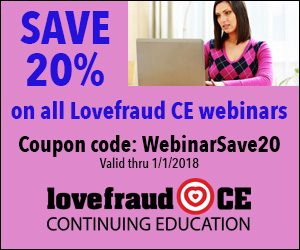 Give yourself the gift of education and healing this holiday season with webinars and books from Lovefraud!
Save 20% on Lovefraud Continuing Education webinars!
All Lovefraud webinars are 20% off! Just use the following coupon code at checkout:
WebinarSave20
Courses for survivors help you understand how you became involved with the sociopath, how to extricate yourself, and how to recover.
Courses for therapists offer continuing education credits for psychologists and social workers. Plus, when you earn 8 CE credits with Lovefraud, you get a free one-year listing in the Lovefraud Professional Resources Guide.