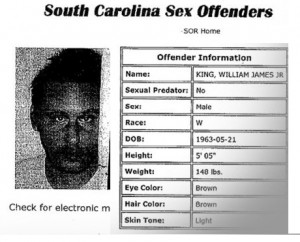 James E. King, an owner of two condominium units in the Santee Resort complex in South Carolina, was awarded $890,000 for damages resulting from wrongfully being identified as a sex offender.
Dissatisfied with King's failure to pay monthly dues on time, and to make voluntary contributions to the upkeep of the complex, board members Leah Londeree and James Kiser, circulated a flyer with South Carolina sex offender names on it, claiming homeowner James E King as the William James King Jr. listed on the sex offend list.
"There are certain names you just can't call people, unless you truly check your facts," King's lawyer said, according to The State. "It's beyond reprehensible that someone would call someone else a sex offender without really knowing that they are."
No "˜sex offender' here; SC man awarded $890,000, from The State.
Link supplied by a Lovefraud reader.