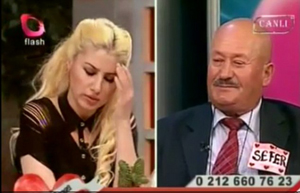 If you've ever been on a dating website, you might have noticed what most people think to be a ridiculous profile question: "Do you do drugs?" Nobody answers "yes" to that question. An equally ridiculous question (one would think) may need to be added to dating questionnaires: "Have you murdered or raped a previous partner?"
Sound crazy? This question should have been asked of Sefer Calinak, 62, who appeared on Turkey's Flash TV "Luckof the Draw." Had a proper background check been performed prior to showtime, the show's host would not have had to ask the contestant to leave on live TV. Calinak told her he killed his first wife because he was "irritated" by her behavior, and murdered a subsequent partner because he thought she was after his money.
Although Calinak served two prison terms for the crimes, he told the host, "I'm an honest person looking for a new wife." He assured the stunned audience and host he would not kill his next wife.
Contestant on Turkish dating TV show is asked to leave after revealing he murdered his ex-wife… AND his subsequent lover, from Daily Mail.