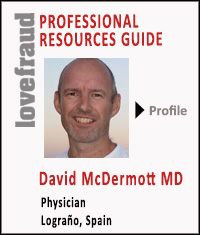 Lovefraud would like to welcome our newest member of our Professional Resources Guide. Here's a Q&A with Dr. David McDermott to help you get to know him.
By David McDermott, M.D.
What experience have you had dealing with sociopaths or other disordered personalities—personally, professionally, or both?
While working as a hospital doctor some of my bosses were psychopaths, I got caught in a marriage by a psychopath and when that relationship broke up I was recruited into a personal development cult where I lost 10 years of my life. I was number 2 in the cult for most of those 10 years and I often sat beside the leader while he was doing group trainings and he taught me how he was changing peoples' beliefs, emotions and behaviors.
I didn't realize what I was dealing with until after I had left the group and I realized that it was actually a cult. I went through a recovery process with a psychologist who understood manipulation, psychopaths and narcissists. I had known that my surgeon bosses were very 'strict' and that the marriage was very controlling but I didn't realize that I was dealing with psychopaths until I started into my recovery process.
When I had fully recovered, I realized that there was precious little information available on the internet about these things so I added a section to my decision making web site about mind control and psychopaths. The manipulators have a profound influence on their victims' decision making so I thought including them on the site made sense.
People then started contacting me for advice on cults and abusive relationships and I decided that I was going to work exclusively in this area. Over the last 7 years I have worked with people all over the world helping them to leave cults and abusive relationships as well as helping them to recover from the damage done by the manipulators. I have also worked with people who were being abused and bullied in the workplace.
How do you go about helping clients who have tangled with a sociopath?
I start with the idea that there is nothing wrong with the victim, the thing that is missing is information. Information about manipulation, psychopaths and narcissists. My job is to provide people with information in these areas and to help them understand how that information relates to their particular situation.
For example, many victims cannot see initially that the person they love was lying to them, or they don't understand how the manipulator was taking advantage of the idea of favors (the manipulator does you a favor and then expects you to pay them back forever, or you do them a favor but they never pay it back.) At the start of the recovery, I help people to make such connections and understand how specifically the various techniques were used against them in their particular situation.
Later on, my work involves helping the person to undo the programmed responses and behaviours installed by the manipulators and to pick and choose new ways of acting in the world. People have typically been changed at their very core, their personality, by the manipulators and they often need support in reconnecting with their 'pre-cult' or 'pre-abusive relationship' personality.
And the victims need to learn how to trust themselves, and others, again. They often need to figure out a new way to establish relationships so that they are not caught by manipulators in the future. They may need to patch up old relationships that were damaged by the manipulators. They may need to find work or change jobs. They may need help dealing with children in an abusive environment.
I provide help and advice through all of these stages.
What, in your experience, is the biggest issue or problem that people who have been betrayed by a sociopath need to overcome?
Because of the nature of psychopaths, narcissists and manipulation, the victims are blamed for anything that goes wrong or anything bad that happens. This seems to be a universal thing with the manipulators. This pattern becomes very ingrained in their victims and the victims end up taking responsibility for things that they are absolutely not responsible for.
The manipulator is doing lots of things that are outside the awareness of the victim, which means the victim cannot resist in the moment; nor can the victim later understand or make sense of what happened because they do not have all the information available to them. If the victim and their decision making are being influenced by things outside of their awareness, they should not be held responsible for things that they do not know about.
People often think they deserve what they got, it's their own fault, that they made the decision to have a relationship in the first place or that they decided to stay, that they tolerated the bad behavior, that they made bad decisions along the way, that they could have done something about it sooner, and so on.
All these things are not true but the victim cannot see these things initially. It takes study and effort to tease apart what actually went on so that the person comes to understand mentally, and feel it in their body, that what happened was not their fault. When someone reaches this point, then they are well on their way to a good recovery and no longer feel that they are a victim.
What's one tip you can suggest for helping Lovefraud readers recover from the betrayal of a sociopath?
The one thing that will make life much easier is to work with an expert who understands manipulation, psychopaths and narcissists.
Yes, it costs money and no, it's not fair that you should be the one who has to pay when that nasty piece of work that abused you just carries on as if nothing happened.
But an expert will be able to point things out to you that you cannot see yourself. This is very important when there is manipulation and trickery going on, because you have literally been trained not to be able to see it.
An expert will also be able to provide information that you wouldn't think to look for as well as point out things that are, or may become, problems that you are not aware of.
Overall, it saves you time, effort, money, tears and heartache when you work with someone who can guide you through the (often difficult and painful) journey of making sense of, and accepting, what was done to you.