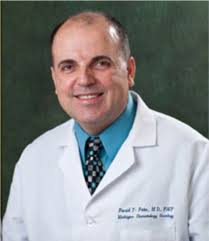 Dr. Farid Fata, an oncologist from Oakland Township, Michigan, pleaded guilty in September 2014 to 16 federal counts, including filing fraudulent Medicare claims totaling more than $17 million.
He diagnosed cancer in many patients who did not have it and ordered unnecessary chemotherapy and other cancer treatments. So far, more than 550 victims have been identified. Fata is accused of ordering at least 9,000 unnecessary cancer treatment infusions.
A sentencing hearing is scheduled for July 6, 2015. Fata faces up to 175 years in prison and a $250,000 fine for health care fraud, and up to 20 years and $500,000 in fines for money laundering.
Sentencing for cancer doctor delayed, on DetroitNews.com.
Impact statement excerpts released for victims of unnecessary treatment by Dr. Farid Fata, on ClickOnDetroit.com.
Whistle-blower: How doctor uncovered nightmare, on DetroitNews.com.
Story suggested by a Lovefraud reader.