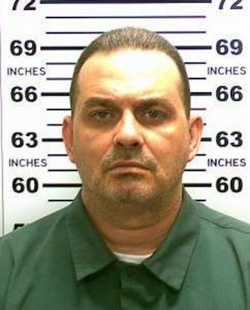 Richard Matt, 48, and David Sweat, 34, tunneled out of Clinton Correctional Facility in Dannemora, New York on June 6. Since then, stories about Matt make him sound like a complete psychopath.
An accomplice who watched him break a man's neck in 1997 called him a "master manipulator." He may have conned a female prison employee into helping him.
Escaped murderer in New York called cunning and evil, on CNN.com.
Escaped killer Richard Matt freaked out his own family, on TheDailyBeast.com.
Female worker probed as possible accomplice in prison break, on NYPost.com.
Escaped murderer Richard Matt could seek revenge, accomplice says, on NBCNews.com.
UPDATE:
Female prison employee gave escaped murderers 'equipment or tools,' D.A. says, on People.com.
Joyce Mitchell had sexual relationships with both escaped N.Y. inmates, sources say, on NYDailyNews.com.
This is such a tragedy. Unfortunately, we all know how it can happen.