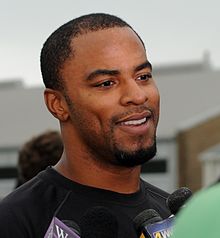 Darren Sharper played 14 years in the NFL, for the Green Bay Packers, Minnesota Vikings and New Orleans Saints. He was named All-Pro six times and played in two Super Bowls. He retired in 2011 and became an analyst with NFL Network. Then his life got weird.
Sharper, 41, pleaded guilty or no-contest to charges of drugging and raping nine women in Louisiana, Arizona, California and Nevada, although there may be as many as 16 victims.
He cut a plea deal to serve a total of 9 years for the crimes. But on August 18, 2016, U.S. District Judge Jane Triche Milazzo threw out the plea deal, and sentenced him to 18 years. "We can never ignore the damage you inflicted on those women and society at large," she said.
A Sports Illustrated story published two years ago details the accusations. On multiple occasions, Sharper invited young women to his hotel room or condo and gave them something to drink. They blacked out, and when they awoke, realized they'd been assaulted.
Darren Sharper sentenced to 18 years in prison in rape case, on NYTimes.com.
The case against Darren Sharper, on SI.com.