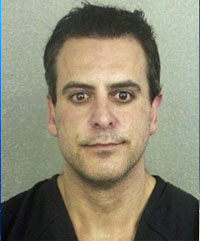 Dr. Rafael Azulay, a practicing internist in Pembroke Pines, Florida, was arrested last week for domestic violence. He allegedly punched his girlfriend in the face, and kicked her in the face and stomach, in the home they shared.
According to Local10.com, the woman was bleeding when deputies arrived, but Azulay claimed he didn't touch her.
A longtime friend of the victim said Azulay humiliated the woman by rubbing cat food and dirt into her face. But the woman was afraid to leave.
Pembroke Pines doctor accused of beating girlfriend for second time, on Local10.com.
Story suggested by a Lovefraud reader.