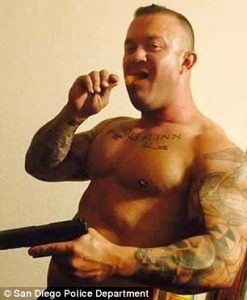 Krystal Mitchell, a mother of two from Arizona, went on vacation to San Diego with her new boyfriend in June 2016. She never returned.
Raymond McLeod, a 34-year veteran of the U.S. Marines, has been charged with her killing. McLeod took Mitchell's car to the airport, then rented another car and drove to Mexico.
McLeod has since been seen in Mexico, Belize and Guatemala.
The victim's mother, Josephine Wentzel, a former police detective from Washington state, said of McLeod, "He is charming, he is deceiving, he is a liar, and he is a viper." She has asked for the public's help in finding him.
When Wentzel posted a "wanted" poster of McLeod on Facebook, she heard from multiple women who said he was dangerous.
'He is a viper': Mother of Arizona woman 'strangled to death by her Marine veteran boyfriend' appeals for help in finding the fugitive, on DailyMail.co.uk.