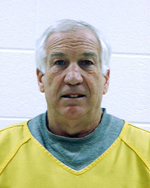 Four years ago, Jerry Sandusky, former assistant coach of the vaunted Penn State football team, was convicted of 45 counts of sexual abuse towards boys. Now, claiming that he never had sex with boys and that his lawyer did a terrible job of representing him, Sandusky wants a new trial.
'I was naive': Jerry Sandusky blames his conviction on 'chaotic' defense, on PennLive.com.
In the meantime, another former Penn State assistant coach, Mike McQueary, has filed a whistleblower lawsuit against the university. He says he was wrongfully terminated after reporting that he saw Jerry Sandusky in the shower with a boy.
Former Penn State coach Mike McQueary's whistleblower trial date set, on PennLive.com.