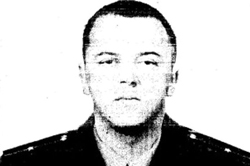 Ephraim Izmailov, 36, a former police officer, prowled the streets of Kaliningrad in western Russia, looking for women.
When he saw a woman alone, he stopped, showed his police ID, and offered them a ride home. Then he raped them intentionally infecting the women with HIV.
Ismailov has been arrested. At least nine women have come forward, but police suspect many more women were victimized.
Policeman with HIV accused of raping 9 women to deliberately infect them, on Mirror.co.uk.