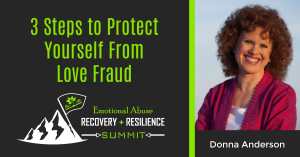 If you're involved with a sociopath, you are most likely enduring emotional abuse.
Emotional abuse can include verbal assault, dominance, control, isolation, ridicule, and much more. It targets your emotional and psychological well-being, and can be just as damaging as physical abuse. If you're enduring emotional abuse, or trying to recover from it, this summit is for you.
The Emotional Abuse Recovery and Resilience Summit includes over 45 expert speakers who provide in-depth, real-world information on how to identify and get out of abusive situations. This is a FREE online 10-day video series, although you have the option to purchase the series so you can refer to it whenever you need reassurance or advice.
I am one of the speakers, and my video is available tomorrow, September 2. For more information, visit the Emotional Abuse Recovery and Resilience Summit website.
About the series
Emotional abuse touches every part of your life. The road to recovery can be long and complex. The Emotional Abuse Recovery and Resilience Summit provides valuable information to help you recognize and understand every component of the abuse and recovery process. Expert speakers provide real-world information on how to identify and get out of abusive situations.
Identify emotional abuse by learning the warning signs and abuse patterns — and learn how to get out of a relationship before abuse starts.
Understanding types of abusers (like narcissists and sociopaths) and strategies for dealing with abuse tactics like gas lighting, projection and triangulation.
Going to a shelter and what to expect.
Recognize your mind and body's response to trauma.
Reconcile your religious beliefs with your abuse.
Show you how to share your story and handle others' reactions appropriately
Family and friends of an emotional abuse victim can either become a support system or cause further damage. The Emotional Abuse Recovery and Resilience Summit will equip victims to interact with people around them.
Discover the steps to help a friend or family member safely leave an abusive situation.
Avoid the blame game. Learn how to move forward without blaming yourself or others.
Deal with codependency and trauma bonding after emotional abuse within a family.
Do you know what to do if your spouse is the abuser? We'll talk about co-parenting and helping children understand emotional abuse.
Re-building a life and recovering after emotional abuse can be a long process. This summit offers practical tools for recovery.
Find the right therapist and utilize therapy like EFT, writing, helping others, music and many more.
We'll discuss grieving the lost relationship and making new friends.
Rebuild your self-confidence and find out why it's important to connect to others.
Experts will get into the neuroscience of resilience and how to adapt to change.
Lean to make peace when abuse happened a long time ago.
Discover what to expect when dealing with the court system and laws on domestic violence.
Find personal growth through recovery — don't be a victim.
Forgive to find healing.
This online summit provides the most comprehensive knowledge about emotional abuse in relationships from speakers who are experts in their field. If you've been in a tough relationship in the past, are currently in a tough relationship or want to be equipped to address these relationships in the future, the Emotional Abuse Recovery and Resilience Summit is for you.
Check it out today!