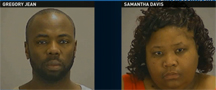 Gregory Jean, Jr, 13 of Jonesboro, Georgia had been missing for four years. Then, after a call from his mother, Clayton County Police Sgt. Joanne Southerland found him in a hidden space between the garage and the attic of his father's home. The boy had allegedly been held against his will and abused.
The boy's father, stepmother and three teenage children were all arrested for false imprisonment, cruelty to children and obstruction of an officer, Police Chief Gregory Porter said.
Boy found behind fake wall: 'Thank you' to rescuers, from USA Today.