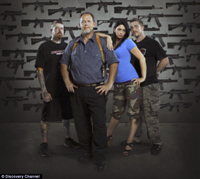 The ex-girlfriend of 49-year-old Will Hayden, star of the reality show "˜Sons of Guns,' told Louisiana authorities that Hayden molested their daughter. The claim led to the star's arrest in East Baton Rouge, Louisiana on Saturday.
Hayden denies the charges, saying the woman is just a bitter ex trying to get revenge for ending the relationship.
Stephanie, an older daughter who also appears on the reality show, defends her father, saying, "there was never any impropriety in our home, he was, and is, a good father."
Who is telling the truth? At this point, that is unknown.
Star of reality show 'Sons of Guns' arrested for child molestation… but he insists his bitter ex-girlfriend made up the 'false' claims to get back at him, from Mail Online.