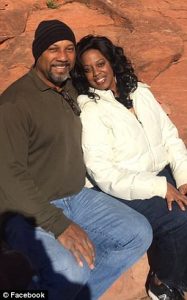 Cedric Anderson and Karen Smith, both 53, married on January 28, 2017, in Los Angeles, California. A month ago, Karen left him.
Monday, April 10, Anderson walked into the San Bernardino elementary school where Karen was a special needs teacher. He shot Karen, killing her and an eight-year-old boy standing behind her. Another boy was injured. Then Anderson killed himself.
"She thought he had a wonderful husband, but she found out he was not wonderful at all. He had other motives," said Irma Sykes, Karen's mother, according to the Daily Mail.
"She left him and that's when the trouble began. She broke up with him and he came out with a different personality. She decided she needed to leave him. She was going to divorce him."
REVEALED: Gunman who shot dead his wife and her student, 8, at a San Bernardino elementary school classroom had been married to the teacher less than three months, on dailymail.co.uk.