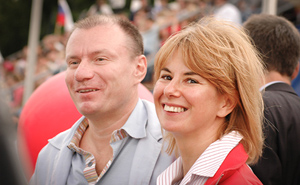 Vladimir Potanin is worth £10 billion, according to Forbes magazine. He and his wife of 30 years are divorcing, and Natalia Potanin wants her share.
She doesn't buy her husband's story that he's "down to his last millions."
Vladimir Potanin dumped his wife for a younger woman, and they now have a child together.
Natalia says she will battle for justice, no matter how long it takes, according to the Daily Mail.
'Dumped, betrayed, and humiliated': Ex-wife of Russia's richest oligarch who had secret mistress and love child on her fight for his £10 BILLION fortune, on DailyMail.co.uk.