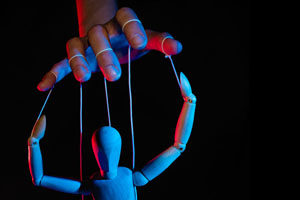 Perhaps you're a heartbroken mother or father, worried sick about your adult child, who is entangled with a sociopath and becoming more and more distant.
Or perhaps you're an adult child, afraid that the new person in the life of your mother or father is an exploiter, angling for your parent's assets.
Whether it's a family member or friend, it's painful to see someone you care about being mind controlled by a human predator. And you wonder, how did this happen?
Here are some points to help you understand the process. Essentially, sociopaths —people with antisocial, narcissistic, borderline, histrionic or psychopathic personality disorder — take advantage of the characteristics that make us human.
We are all subject to social influences
Social influence comes in many, many forms: Parenting is a crucial social influence, teaching children how to behave. Schools and churches are not only for education, but for passing on social norms. TV commercials and other ads try to influence us to make purchases. Writers and the media try to convince us to believe their points of view. Just about any communication is a sort of influence.
The problem is that we don't always know that people have different motivations for exerting influence. We may not realize when people are trying to influence us in harmful or exploitative ways — especially when they seem to be so concerned about our wellbeing.
Sociopaths target our vulnerabilities
All human beings want something. Whether we want a relationship, or money, or a new house, or entertainment, there's always something that we want. Whatever we want makes us vulnerable.
And that's how sociopaths target us. They figure out what we want, what makes us vulnerable, and use it to hook us.
We are especially vulnerable during times of transition in our lives. For example, young people who are no longer in school but have not yet found a path in life may be looking for direction. Someone who is recently divorced or widowed may be in pain over the breakup, and hoping for a new relationship. Someone who has lost a job may be worried about money.
In times like these, sociopaths see opportunity. They assess the situation, then offer to solve our problems and make our dreams come true.
Sociopaths hijack the human bonding system
Human beings are social creatures. In fact, the reason the human race was able to survive at all is because we learned to live in groups. Therefore, we are biologically and psychologically programmed to observe, respond to, and seek the companionship of other people. Here are some of the ways in which this happens:
Any kind of relationship is essentially a psychological bond we feel with another person. The bond begins to form because of pleasure. Unfortunately, when pleasure stops, the bond is still in place. That's why it can be difficult to leave a relationship even though we know it's bad for us.
The neurotransmitter oxytocin is released in our bodies whenever we experience any type of intimacy — including conversation, physical touching and sex. Oxytocin relieves fear and anxiety, and makes us trust the person with whom we feel intimacy.
Romantic love causes our bodies to produce dopamine, which is associated with energy, motivation and addiction. That's one reason why we can become addicted to a relationship.
When we have sex with a person, it causes structural changes in our brains.
All of these psychological and biological changes are meant to strengthen our social connections. Why? Because back in caveman days, if we did not have social connections, if we were not a member of the group, we died.
The tools to make and preserve social relations are baked into our DNA. Unfortunately, sociopaths use this against us.
Sociopaths slowly establish control over their targets
No one enters any kind of relationship with a person expecting to be brainwashed or mind-controlled. Your family member believed, in the beginning, that both parties had common goals. He or she was deceived.
Sociopaths, at first, engaged in love bombing — showering your family member with attention and affection. Even if the relationship wasn't romantic, there was still a form of love bombing — perhaps expressing admiration, or purporting to share ideals, objectives or philosophies.
Slowly, the sociopaths started to exert control. Perhaps they called and texted constantly. At first all the attention was flattering, but eventually it morphed into keeping tabs on your family member, and then controlling his or her communications with you and others.
Perhaps the sociopath bought your family member new clothes, and this eventually turned into dictating he or she could wear. Or the sociopath may have promised financial assistance, but this turned into financial control.
At the same time, the sociopath was chipping away at your family member's confidence, self-esteem and even his or her very identity.
How to help your family member escape mind control
If adults in exploitative relationships weren't kidnapped, the law assumes they are there by choice — even if they look like brainwashed zombies to you. You may feel like you are losing your friend or family member, and feel helpless.
What do you do? That's exactly the topic of the Lovefraud webinar:
How to help a family member who is being mind-controlled
Instructor: Steve Hassan, author of Combatting Cult Mind Control
Thursday, Oct. 3, 6:30 to 8:30 pm ET
This is a terrific program. Steve Hassan, an internationally known expert on cults, will explain in more detail how people come under mind control and what happens to their personalities. He then presents his breakthrough method for helping people escape. It's called the Strategic Interactive Approach, and is an effective and legal intervention to help targeted people choose to leave.
Lovefraud is so pleased to present this webinar. If you want to help your loved one, here's how to do it. Click the link below for more information.