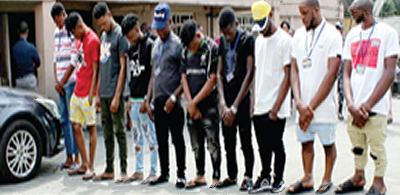 Thousands of scammers are online, posing as U.S. military, trying to entice unsuspecting victims into sending them money. Authorities in Nigeria just arrested 10 men who were doing just that. Here's the news:
Love scam: 10 Nigerians pose as U.S. Army officers, on NewTelegraphng.com.
In romance scams, con artists may spend two to three months grooming their targets (that would be you). They slowly gain the target's trust, proclaim love, and promise to be together. Then they start asking for money. If you hear any of the following, it is a scam:
"I need money for a satellite phone."
"I need to pay for official travel documents."
"Since I'm deployed overseas, I need to pay for my travel to see you."
"I was in an accident and need to pay my medical bills."
Real soldiers never need to pay for communications, documents, travel or medical expenses.
NEVER, EVER send money to someone you've met online. It is a SCAM.