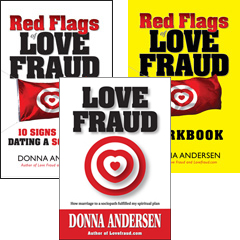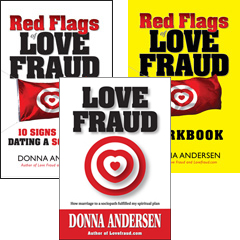 With any purchase of a Lovefraud CE course, you get one of Donna Andersen's ebooks, sold for $9.99 on Amazon, absolutely FREE! This offer applies to on-demand self-study courses, and to upcoming webinars. See details below.
On Demand courses
If you need to understand personality disorders right now, five Lovefraud CE courses are now available on demand. Just sign up, and you can view them immediately.
The Basics: Love Fraud and How to Avoid It
The Five Step Exit for Survivors: Tools you need to leave a psychopath, narcissist, or other toxic partner
Sociopathic Seduction: How you got hooked and why you stayed
What Did They Want? Psychopaths, antisocials and other exploiters in romantic relationships
Escaping the Sociopath and Rebuilding Your Life
The Five Step Exit: Tools you need to help clients leave a psychopath, narcissist or other toxic partner (This course is for mental health professionals)
Upcoming webinars
Here's the lineup of Lovefraud CE webinars. Many of theses courses offer continuing education credits to mental health professionals. If you purchase any of them during July, you'll receive your free ebook!
July 22, 29 Love and Exploitation: Recognizing the exploitative relationship and its impact on the intimate partner
August 4 How the Americans with Disabilities Act (ADA) Supports Traumatized Clients in Court
August 9 Understanding the Language of a Narcissist During a Divorce or Custody Battle
August 18 The Miracle in the Madness: Pathway to healing from destructive relationships
August 29 Coping with Stalking: How to overcome fear and fight back strategies from a woman who's done it
Sept. 14, 21, 28 and Oct. 5 Overcoming Children's Genetic Risk for Externalizing Disorders
October 10 — Helping Lesbians Leave Crazy-Making Relationships: Addressing barriers to treatment and delivering effective support
Free ebook!
When you sign up for one of Lovefraud CE courses, your email receipt will include a coupon code for your free ebook by Donna Andersen. Choose from:
This offer is available only for the month of July. Sign up now!