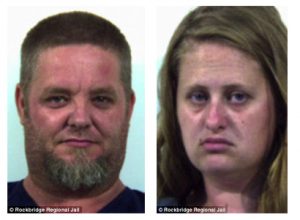 Half-siblings from rural Virginia were sentenced to more than 100 years in prison for seriously abusing two little girls.
Robert Eugene Clark, 39, received 65 years and Samantha Kay Simmons, 30, received 43 years.
In 2015, two sisters, aged 3 and 8, were discovered in a filthy trailer owned by the siblings that was crawling with bugs. The girls had been sexually abused.
The crimes are shocking enough. But three-quarters of the way through the story, Daily Mail reports that the local social services supervisor refused to enter complaints about the situation into the agency's computer system and shredded others.
According to the grand jury report, the supervisor was quoted as allegedly saying of the two abused sisters, "They're used to living that way so what's the big deal?"
Incestuous half-siblings raped and abused two girls, 3 and 3, in their trailer home for months until the 'feral' children were rescued covered in cockroaches and surrounded by guns and port, on DailyMail.co.uk.