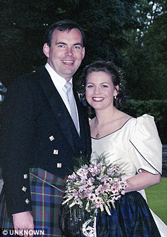 In 1994, Malcolm Webster submitted an insurance claim for the tragic death of his bride of eight months, Claire Morris, who swerved off an Aberdeenshire road. Webster was awarded the insurance money, collecting more than £200,000.
In 1999, Webster married a native New Zealander named Felicity Drumm. She has a sizable bank account and insurance policies, which his name was added to. After clearing out her bank accounts, Morris put her in a car, intending to run it off the road and set it on fire, but his plot was interrupted.
This foiled plan looked suspiciously like the circumstances surrounding the death of Webster's first wife, and an investigation followed. Webster, who became known as the Black Widower, was convicted of murder and attempted murder, and was jailed for 30 years at Glasgow High Court in 2011.
Now, ITV is running a drama series called The Widower, which is based on the real life crimes of convicted murderer Malcolm Webster. Episode One reenacts Malcolm and Claire's wedding. Peter Morris, Claire's brother, and a consultant for the show, praised Sheridan Smith, the actress who portrays his sister for capturing his sister "completely."
People who have access to ITV can see the series on ITV catchup. Registration is required. ITV is not available in the U.S.
My sister was killed by The Widower but Sheridan Smith has brought her back to life: Brother of murdered bride pays tribute to actress who portrays her, from the Daily Mail Online.
Brother of tragic 'Black Widower' victim praises new TV drama, from HeroldScotland