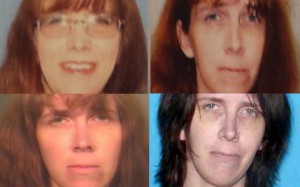 Ann Marie Miller, a 40-year-old former Virginia bankruptcy lawyer, was known as Jane Doe in an Allen County Ohio jail because she had no fingerprints.
At one point she was involved in a romantic relationship with her law partner. When it unraveled, Miller then began a litany of lawsuits against her former lover, his new wife and his parents.
Miller was busted on 14 counts of theft, fraud, and forgery, but charges of using a false birth certificate to obtain an Ohio identification card are what landed her in the Ohio jail.
Back in 1933, the infamous "Public Enemy No. 1," John Dillinger, had tried to burn off his fingerprints with acid prior to being held in the Allen County jail, the same lock-up in the same small town, Lima, Ohio, where the mystery woman was now behind bars. Miller succeeded where Dillinger had not — only until her skin grew back.
The Mystery Woman Who Tried to Outdo Dillinger, from The Daily Beast.
Link supplied by a Lovefraud reader.