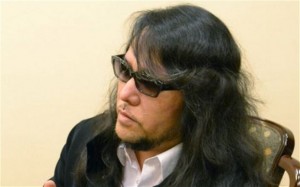 Japan's Mamoru Samuragochi became famous in the 1990s for composing music for films and video games. Two of his most famous works include the orchestral score for Onimusha, a PlayStation 2 video game, and the sound track for Cosmos, a 1996 film.
Due to a degenerative hearing condition, Samuragochi could not do the work himself, so he hired a composer to do the work for him, and then Samuragochi passed the soundtracks off as his own work until recently.
Samuragoch's accomplice Takashi Niigaki who is a part-time music teacher exposed the lie in an interview with a Japanese magazine because the deceit had become too much for him to conceal. Whistleblower Niigaki said the final straw came when he found out a piece of music credited to Samuragoch would be featured at the Sochi Winter Olympic Games.
Mamoru Samuragoch, iconic Japanese composer, admits faking work, from the Telegraph.
Sochi Winter Olympics 2014: Composer Mamoru Samuragoch Exposed as Musical Fraud, from International Business Times.
Story suggested by a Lovefraud reader.
—