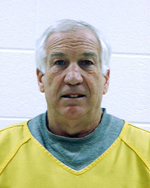 Penn State University has paid out $93 million to 32 accusers who said they were sexually molested by the former assistant football coach, Jerry Sandusky.
Many of the victims told their stories in depositions that were part of a lawsuit between Penn State and its insurance company. The depositions were unsealed today, and describe in detail what the victims experienced.
According to the depositions, multiple members of the Penn State coaching staff were aware of Sandusky's behavior with young boys.
One of the victims said he told Joe Paterno, the head coach, what Sandusky did to him. The victim said Paterno brushed him off.
Joe Paterno knew of Jerry Sandusky abuse in 1976 per testimony in newly unsealed records, on WashingtonPost.com.
Sandusky accuser: I told Paterno about shower assault in 1976, on Philly.com.
What Sandusky accusers said in their depositions, on Philly.com.