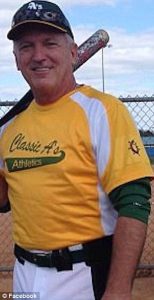 You need a score card to keep track of all the women Ken Boyer, 60, has targeted, seduced and defrauded — all while claiming to be dying of cancer.
Boyer recently reconnected with his "long lost love," Michelle Kimbrell, and married her — despite the fact that he had also proposed to Karen Hagerty, Cheryl Alvarez and Barbara Jones.
Barbara Jones is suing him to get back the $22,000 of her money that he allegedly blew on dental work, a customized Harley Davidson and shady investments.
One of his four ex-wives said Boyer has been claiming to have stage 4 liver cancer since 2010.
EXCLUSIVE: 'He has a mental illness, not caner': Jilted exes of the 'cancer conman' who faked hospital visits so he could disappear and chase other women claim he's pretended to have terminal illness for SEVEN years, on DailyMail.co.uk.
Link supplied by a Lovefraud reader.