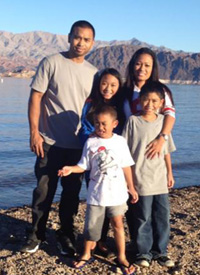 Phoukeo Dej-Oudom fled for her life, running down Lake Mead Boulevard in Las Vegas, Nevada, as her husband chased her in a black Mercedes.
A driver picked her up, but her husband, Jason Hagan Dej-Oudom, pulled her out of the car. She managed to escaped again, but her husband shot her in a Walgreen's parking lot.
Police found the Mercedes outside of a nearby condominium. They went into the home, and found three children and their father dead. He had killed the three kids and then himself.
Las Vegas man killed wife, 3 children, self with gunshot wounds to head, on ReviewJournal.com.
Witnesses talk about incident involving deaths of mom, 3 kids, on KTNV.com.