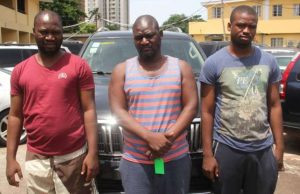 In Nigeria, perpetrators of online fraud are called "Yahoo Boys." They do very well for themselves.
Three men who specialized in love scams were arrested Monday by the Nigerian Economic and Financial Crimes Commission (EFCC). They were found with cars, laptops, mobile phones, and other property, all purchased with the money they scammed from unwitting romantic partners.
And a couple of weeks ago, a group of Yahoo boys abandoned their exotic cars at a nightclub to escape a raid by the EFCC.
If you still want to try online dating, know that the Internet is infested with predators, and be very careful.
NEVER SEND MONEY TO SOMEONE YOU MEET ONLINE.
Masters of love scams arrested by EFCC
Yahoo Boys abandon exotic cars at Club 57 to escape EFCC raid