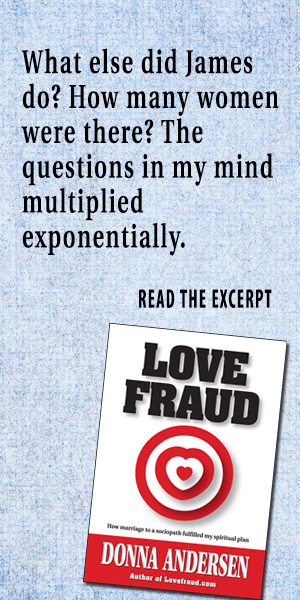 Between now and the end of the year, I will publish excerpts from my first book, Love Fraud — How marriage to a sociopath fulfilled my spiritual plan. I posted some excerpts earlier in the year. To start the series from the beginning, read:
Meeting my future husband (the sociopath)
By Donna Andersen
I'd discovered the shocking truth — my husband, James Montgomery, not only cheated on me. He had a child with another woman during our marriage. And that was just the one of his betrayals …
What else did James do? How many women were there? The questions in my mind multiplied exponentially. Maybe my husband's office—his audacious lair right in my home—held answers.
For more than two years, I'd ignored my husband's mounds of paper. Printouts, letters, envelopes, mail, faxes—to me it was all the clutter of his brilliant but disorganized mind. Now the piles of paper could represent something else—evidence.
I found more bank statements. James had two accounts in the First Union Bank—I'd been vaguely aware of this. One was in his name. The other, an old account that had been transferred to New Jersey from Florida, was a joint account in the name of James A. Montgomery and Cecelia A. Portnoy.* James told me Cecelia Portnoy was his accountant—I assumed that's why her name was on the account. But now I wondered—what exactly was this woman's relationship to my husband?
The Montgomery/Portnoy statement for November 4 through December 4, 1998, showed total deposits of $14,568 for the month. Where did all that money come from? A deposit for $1,000, on November 23, was a wire transfer from me—I remembered his appeal for money while he was in Las Vegas. But there was another deposit of $1,500 five days earlier that I couldn't identify. Then the statement showed two deposits for $6,000 each on December 2 and 3, 1998. One was a funds transfer from Sylvia Banning.
Sylvia Banning—the woman whose name was on the receipt for James' computer. And December 2—that's when James got the money to pay the rent for the Florida apartment, money that he said was an advance from his military pension. Did he actually get the money from that woman?
Another bank statement, from April 1997, showed a wire transfer deposit of $2,000 from Kimberly Goodson. So my husband had been involved with the mother of his child since a few months after our New Jersey wedding—or longer. She also gave him money.
Other statements from 1997 showed two charges, for $300 each, to a local pet store. The purchases were made at the same time that the sugar gliders appeared in our home. That meant James lied about his "deal" in acquiring them—while I was desperately trying to pay for our wedding and the charges on my credit cards, James spent hundreds of dollars on new pets. I also found a receipt from a local trophy store, dated when James told me he went to the Nassau Film Festival. Apparently the award he brought home was, indeed, a bowling trophy, and he bought it himself.
Rooting through more papers, I found letters that James wrote and faxed. In one to Johnny Stuart he wrote, "Donna is in Orlando looking at all the properties we have been offered [she believes, with me, we can do quite a job at Wild Bill's]." I was furious. Not only did James ignore the fact that I hated the Wild Bill's location, he told Johnny Stuart I was in favor of it!
I found a sheet of blank stationery from the Jacobsen group. Suddenly, I realized that the letter James showed me, confirming that Jacobsen wanted to form a joint venture with us for the Titanic Experience, was forged. James wrote it himself, and made the reference to "the old Showboat casino site" for my benefit.
I found a letter without an addressee—from the content I deduced that James sent it to the parents of Gale Lewis, his deceased wife, in early 1997. Written after James and I were married but before the Mays Landing townhouse was sold, it was also full of lies:
Hi Folks!

Well, Disney have optioned the 'First Casualty' script and Lenfest continues to pay me a fee to reorganize their network till we can take it over [a matter of suitable terms] … I have stabilized my income revenue and can see light at the end of the tunnel for our stock to start moving up!

Poly-T will become viable in the next six months and either CelebAM or Century Park will start within twelve months.

It's time for me to start planning the rest of my life.

I have found a place down in AC and will move out of Mays Landing by the end of the month. I will need to take my bedroom furniture, the chaise and sofa, the dining table and the kitchen stuff.
Reading the letter, I became angry again. The First Casualty was never optioned. The cable television company never paid him a dime. And James was going to take over the network? What a joke! Furthermore, if James' income stabilized, it was because I was supporting him—although he neglected to mention that he moved to Atlantic City because he married me. And I never saw that bedroom furniture.
Then I found a letter that James received from John Lewis, Gale Lewis' father. As executor of the estate, he demanded the return of his daughter's property. The letter included an itemized list of missing items:
Hand blender—it was in my kitchen cabinet.
Stereo receiver, CD player and speakers—the components were on the table in my husband's disheveled office.
VCR—it, too, was in James' office, connected to my television.
Watercolor picture of a red tulip vine and blue hummingbird—it was hanging in the kitchen.
Carved wood bird and duck decoy—they were in my living room.
Steamer—it was in a closet in the spare bedroom, supposedly so I could steam James' uniforms.
Duvet, down comforter, pillows and shams—I put the blue and white bed linens in our storage unit, hoping to use them when I could afford to buy matching curtains.
None of this stuff belonged to my husband?
The letter continued:
Yesterday, May 22, 1997, I received a telephone call from Bell Atlantic Credit Card Center in Millsboro, Del. that the charges on the VISA credit card had not been paid. You said last July, 1996 that you would take care of all the charges on this account, if I would leave the card open. You said they were dual cards in both Gale & your names. Now I find that you have not paid the charges in the amount of $8,223.66 and the card was cancelled by the company last February. I have paid the charges, since Gale was the primary signatory. Please send the $8,223.66 to me ASAP or give a payment schedule to do it within the next six months.
I was sure Gale's father never got his money—I knew how James was with credit cards. In fact, as I continued to search James' office, I found a pile of clothes on the floor. In the middle of the heap was the pair of shorts that James absolutely had to buy before we left Bermuda in August 1997, which he charged to his new credit card. The shorts were never worn. The price tag was still attached.
Next: How my sociopathic husband ripped off the wife before me
End of year special! Love Fraud print version on sale for only $5.95!
Love Fraud: How marriage to a sociopath fulfilled my spiritual plan, is available in the Lovefraud Store. For a limited time, the original, hardcover edition, autographed by Donna Andersen, is on sale for only $5.95. That's less expensive than the ebook! And, the first edition is more detailed than the ebook. Buy now.