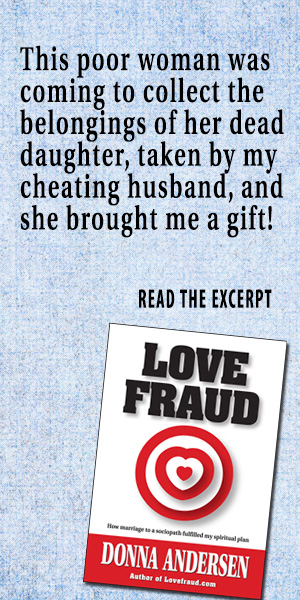 Earlier this year, I started publishing small excerpts from my book, Love Fraud — How marriage to a sociopath fulfilled my spiritual plan. To start reading this series from the beginning, go to:
Meeting my future husband (the sociopath)
By Donna Andersen
After I left my sociopathic husband, James Montgomery, I went through all the correspondence he left scattered around his office in my home. I found letters from the family of his deceased wife, whom he married before me.
James certainly didn't bother to make the family of his deceased wife whole. Instead, my husband ripped them off.
James told me that Gale Lewis suffered a sudden heart attack. It happened on May 17, 1996, while they were both home—he was upstairs in his office and Gale was downstairs watching television. Gale cried out, and James ran down to find her in pain and struggling to breathe. He called 911, then started CPR. The ambulance arrived within minutes, and emergency medical technicians began treating Gale for cardiac arrest. While speeding to the hospital, James called the Lewises, telling them that their daughter may have suffered a heart attack. James soon called again. Gale was dead on arrival.
Gale was only 43 years old. I would be 43 in a few months.
The Lewis' loss, already unbearable, must have been compounded by the actions of their son-in-law. They felt that James took all they had left of Gale—her belongings. And I was party to it. Even though I didn't know there was a dispute—James certainly acted like he owned everything in the Mays Landing townhouse—I was mortified.
I felt obliged to ameliorate my husband's callous actions. Gathering my courage, I sent a letter to John Lewis, Gale's father, on April 12, 1999, in response to his demand for the return of her possessions:
Dear Mr. Lewis,

I am the woman who married James Montgomery after the sad passing of your daughter, Gale. Two months ago, I left James, for reasons that I suspect you would understand.

In going through some papers, I came across the enclosed letter from you. I was not aware of the letter in the past. Some of the items you requested are in my home, and I would be happy to return them to you. However, my marriage to James has left me financially devastated. If you would be willing to pay the shipping, I will gladly return them.

I hope this will help you.
A few days later I received a phone call from Loretta Lewis,* Gale's mother. "Thank you very much for contacting us," the woman said. "We're very appreciative."
"I'm very sorry for your loss, Mrs. Lewis," I said. "I had no idea that the things James brought to my home did not belong to him. I'm happy to return them. But as I said in my letter, he's wiped me out financially, so if you will pay the shipping, I will send them to you."
"We'd like to drive up and get everything, if it's all right with you."
"Are you sure? It's a long trip from South Carolina."
"That's okay. We'd like to do it."
We agreed that they would come the following Saturday, April 17, 1999, at noon.
"Do you need directions?" I asked.
"We know where you live," Mrs. Lewis replied.
Promptly at noon on Saturday, a brown conversion van pulled onto my street. The parents of James' deceased wife, who appeared to be in their late 70s, got out and walked up to my front door. John Lewis was tall and thin. He seemed reserved, and had an air of responsibility about him. Loretta Lewis was short and thin. Even though she was now a senior citizen, I could tell that she had always been a glamorous woman. Mrs. Lewis dressed well. Her hair was pulled up into a neat bun and her makeup was artfully applied.
Everything the Lewises wanted was stacked in a pile in my living room. But they arrived with something for me as well—a bottle of luxury bath oil. "Just put a few drops in your bath," Mrs. Lewis said. "The fragrance is wonderful."
I was touched. This poor woman was coming to collect the belongings of her dead daughter, taken by my cheating husband, and she brought me a gift!
Mrs. Lewis also handed me a large manila envelope. "When we were closing down Gale's townhouse, we found these papers in a pile," she explained. "I told John to take them out and get copies made."
I sat on the sofa and looked at the papers. They were printouts of e-mails—initial correspondence between James and women who used the AOL personals. I read letters from three women—they were typical of someone introducing herself to a possible suitor:
I'm an attractive, college educated 43 year old but look much younger. (Yeah I know they all say that, but really, I do look a lot younger.)

I'm 39, 5'6", with reddish brown hair and green eyes. I've been married and divorced twice (the first was the stupidity of youth and the second was just plain stupidity).

I am very professional in my work, extremely successful for a single parent and can hold my own anywhere … I can change from formal evening wear to jeans and sneakers in a heartbeat.
The e-mails were dated from June 18 to 22, 1996. This must have been shocking to the Lewises—their daughter, James' wife, had died only a month earlier. But it was about the same time that I replied to James' ad. I didn't know how recently he'd become a widower, and I was sure none of the other women did either. I handed the e-mails back to Mrs. Lewis. "I know James was using the personals," I said. "That's how I met him."
We talked a bit more about the person we had in common—James Montgomery. After Gale passed, the Lewises retained a private investigator to look into his background. "He didn't find very much," Loretta said. "It was a waste of money."
A private investigator! Was James doing more than cheating?
Next: What I learned when I called the other woman
End of year special! Love Fraud print version on sale for only $5.95!
Love Fraud: How marriage to a sociopath fulfilled my spiritual plan, is available in the Lovefraud Store. For a limited time, the original, hardcover edition, autographed by Donna Andersen, is on sale for only $5.95. That's less expensive than the ebook! And, the first edition is more detailed than the ebook. Buy now.