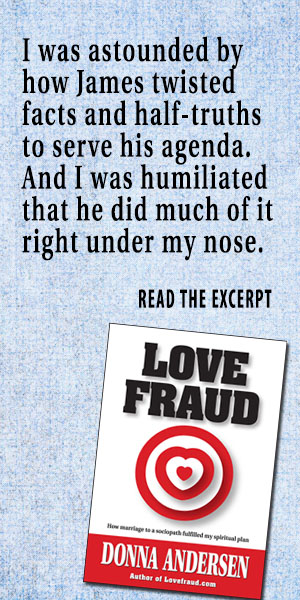 Earlier this year, I started publishing small excerpts from my book, Love Fraud — How marriage to a sociopath fulfilled my spiritual plan. To start reading this series from the beginning, go to:
Meeting my future husband (the sociopath)
By Donna Andersen
My husband, James Montgomery, was having an affair with Sylvia Banning. After I found the courage to call her, and learned that Montgomery had swindled her as well, we started working together to get our money back.
Every day, several times a day, Sylvia Banning and I spoke on the phone. Asking each other questions, telling each other what we experienced, we started to unravel the tangled web of James Montgomery's lies.
James told me that he stayed out-of-town so he could be on time for early-morning business meetings. That's why I put his motel charges on my credit cards. In reality, he was booking motel rooms hoping to have sex with Sylvia.
James told Sylvia that his wife died tragically at a young age, leaving him a widower—free to fall in love with her. He didn't tell her that he remarried within a few months. According to him, I was merely an employee, and a lousy one at that.
James told me he was traveling from Orlando to Atlantic City so he could go on to New York in a last-ditch effort to sell our Titanic artifacts. I used my last remaining credit to buy his plane ticket. He arrived in Atlantic City, called Sylvia and went to a motel.
Every conversation between Sylvia and me brought new revelations. I was astounded by how James twisted facts and half-truths to serve his agenda. And I was humiliated that he did much of it right under my nose.
Sylvia realized much more quickly than I did that James was a con artist. She also realized that her only prayer of getting her money back was by using James' own tactics against him. That's why she cooked up the pregnancy story—and kept embellishing it. She wanted to maintain contact with James, and hoped that some paternal instinct, or some threat of exposure, would move him to return her cash.
Sylvia forwarded to me many of her previous online exchanges with James, which, in light of her scheme, proved to be entertaining reading. In an e-mail to him on March 27, 1999, she really laid on the lies:
I love you honey I really do and I'm not going to make myself upset over this because it's actually not worth the health of the baby. And I want this baby no matter what. I want it because it's yours and mine. Because we made him out of love.
Sylvia followed that up by telling James how much she wanted to be with him. She dreamed of them becoming a family, together forever. James, however, had reservations about the togetherness idea. He wrote to her:
Bubba! You can't listen to all those hormones rushing around—you have to be a little realistic.

You are still married.

We are committing adultery.

And, you are pregnant.

Now that still worries a lot of people. For openers, it is a court martial offense in the military. Some prudes like Rupert Murdoch would stop doing business with me if they ever knew.

Bubba—we are getting there—but we aren't there yet! Your typical answer is, "you don't care what they think" BUT I have to—it's my business—our money—it could cost me the schools program—Florida is the heart of the Bible belt—they don't necessarily think like you and me!

Just think a little! We are adulterers in the eyes of both the law and the community—and I am a guy who broke up a family!

Bubba—from the start I said I HATE all this sneaking around but until we are free it's a fact of life for us—particularly NOW and in FLORIDA.
James points out that Sylvia was married! James worries about adultery! James hates sneaking around! What a joke! But he had taken the bait. He believed that Sylvia was pregnant and pining for him. The con artist was being conned—it was delicious.
Sylvia and I agreed not to tell James that we were in contact with each other. We provided each other with moral support in our separate battles to hold him accountable. We also set out to learn what else James was doing.
We were fairly certain that James was living in Florida with Kimberly Goodson, the mother of his child. James called Maddy, Sylvia's next-door neighbor, and "K Goodson" came up on the telephone's caller ID screen.
We quickly discovered even more women were involved. One of them called Sylvia and demanded that she leave James alone. The woman did not identify herself and quickly hung up the phone. But the call gave Sylvia an opportunity to pick a fight with James.
"Who the hell is this bitch calling me?" Sylvia yelled when she got him on his cell phone.
"What are you talking about?" James asked.
"Some woman just called me. She told me to leave you alone."
"That's ridiculous."
"It's not ridiculous. I just hung up from her."
"Well, I don't know what it's about."
"It's about another woman."
"Someone is playing games, maybe the mob in Atlantic City. There is no one in my life but you. And that's by my choice. Because if I wanted to be with another woman, I would do it."
"So you are seeing someone else!"
"No, I'm not. I told you that I choose to be with you."
"Then who called me?"
"I have no idea. But I do know that you sound like you're paranoid."
With that, Sylvia pretended to back down. She pretended to let James reassure her. All the while, Sylvia and I were digging for information and planning our next moves.
Sale ends Jan. 1! Love Fraud print version only $5.95!
Love Fraud: How marriage to a sociopath fulfilled my spiritual plan, is available in the Lovefraud Store. For a limited time, the original, hardcover edition, autographed by Donna Andersen, is on sale for only $5.95. That's less expensive than the ebook! And, the first edition is more detailed than the ebook. Buy now.