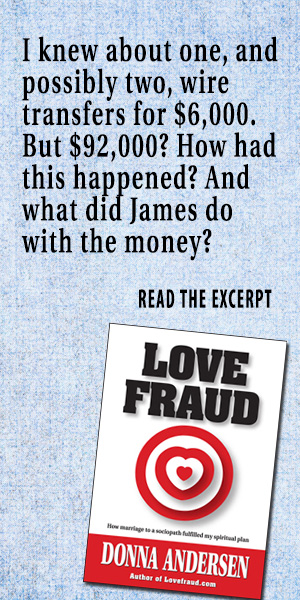 Earlier this year, I started publishing small excerpts from my book, Love Fraud — How marriage to a sociopath fulfilled my spiritual plan. To start reading this series from the beginning, go to:
Meeting my future husband (the sociopath)
By Donna Andersen
I had discovered that my husband, James Montgomery, was cheating on me. But what else was he doing? I had to know the truth.
A phone bill arrived in the mail for James' voice mail account—an account I didn't know he had. I opened it and found call after call from someone in Pennsylvania. The phone number matched the one printed on the receipt for my husband's new Gateway computer, under the name Sylvia Banning.
The evening of Thursday, April 29, 1999, I dialed it. A woman answered the phone. "Hello," she said. Her voice was deep and raspy.
"Is this Sylvia Banning?" I asked.
"Yes, it is," she replied.
"I'm Donna Andersen," I said. "I'm James Montgomery's wife, and I'd like to suggest that you don't give him any more money."
"It's too late," the woman replied. "I already gave him $92,000."
I almost dropped the phone.
I knew about the computer. I knew about one, and possibly two, wire transfers for $6,000. But $92,000? How had this happened? And what did James do with the money?
I needed information from this woman. But where did I start? It was, to say the least, an awkward situation. But Sylvia Banning was anxious to talk to me.
"How did he talk you into giving him so much money?" I asked her.
"He told me I was investing in a Titanic show. He showed me all the artifacts he was buying."
"How long have you known him?"
"Almost two years."
"Was this a romantic relationship?"
"Sure was. Although there wasn't a lot of romance. Mostly we met in motel rooms."
Sylvia had questions for me as well. How long had I been married to James? Was I involved with the Titanic? Was I taking James to court? Sylvia was trying to get her money back from my husband. James told her he couldn't pay because he and John Glassey were suing each other. Of course, that hadn't happened. At least not yet.
We talked for an hour. It became clear that we were both trying to recover our money from James Montgomery. The best thing to do, we decided, was cooperate. I gave the woman my phone number.
After I hung up, I sat at my desk in shock, trying to absorb all that I learned. My husband had cheated with her for almost two years. That was practically our entire marriage. And all the times he told me how much he loved me—well, he was saying the same thing to her.
I was not angry with Sylvia. Not at all. She was a victim. James lied to her, as he lied to me.
The next morning, before 7 a.m., the phone rang. It was Sylvia, with more questions. Did I go with James to Florida? What exactly did I do for the Titanic?
Sylvia said James talked about me, although he neglected to mention that we were married. Sylvia was suspicious early on, but James swore that he was single. How could he be married when his wife had died so recently? In fact, to prove he had no wives hiding in the closet, James sent Sylvia a copy of Gale Lewis' death certificate.
According to James, I was nothing but an incompetent employee who couldn't get anything done, so he asked Sylvia to do work for him. Then he asked her for money. When he failed to repay Sylvia as he promised, she reported James Montgomery to the FBI.
I then understood the true nature of my husband's relationship with me. James wanted my money. Everything else was a lie.
Next: Plotting with the other woman to learn the truth about my husband
End of year special! Love Fraud print version on sale for only $5.95!
Love Fraud: How marriage to a sociopath fulfilled my spiritual plan, is available in the Lovefraud Store. For a limited time, the original, hardcover edition, autographed by Donna Andersen, is on sale for only $5.95. That's less expensive than the ebook! And, the first edition is more detailed than the ebook. Buy now.