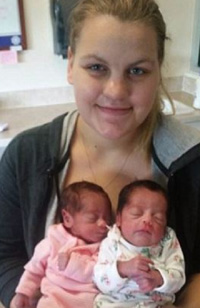 This story is heartbreaking. A few weeks ago in Jacksonville, Florida, Gawain Rushane Wilson, 28, shot his twin daughters in the arms of his girlfriend and their mother, Megan Hiatt. Then he killed Travis James Hiatt, 49, Megan's father. Then he killed himself.
Megan Hiatt, although severely wounded, survived. Now, according to her mother, she wants to get the word out about domestic violence.
"I read this article today and thought it was so sad that this young mother did not recognize until too late how serious her abuse could become," says the Lovefraud reader who sent the link.
"She speaks of the abuse as being mainly verbal in nature prior to the murders of her children," the reader continued. "She did not realize that the most dangerous time for her would be when she was leaving her abuser. He was the typical stereotypical jerk who complained about her weight and would not let her cut her hair.
"However he had threatened to kill her and she had considered a restraining order, but then ignored her feeling that he could kill someone and not followed through with the order. Her abuser had been accused of abusing other girlfriends."
Lone survivor of murder-suicide: 'He made me hold them when he killed them,' on FirstCoastNews.com.