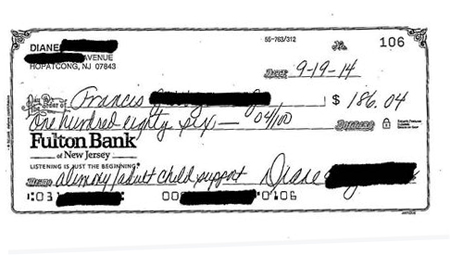 Diane Wagner, 57, of Hopatcong, New Jersey, pays her ex-husband $186 per week in alimony. She's been writing "loser" and "bum" in the memo line.
Her ex, Francis J. Wagner, has sued her, claiming that his wife's memos have caused him to have heart attacks.
Here's what Diane Wagner said, according to The Daily Record:
"As far as I'm concerned I can write anything I want on the memo line because it's a note to myself. I was the victim in that marriage. What more blood does he want from me? I pay him religiously."
Hopatcong ex-wife writes 'loser' on alimony checks; ex-husband sues her, on DailyRecord.com.