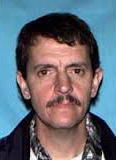 James Barton Horn Jr., of Sedalia, Missouri, is suspected in the murder of his girlfriend, Sandra Sutton, 46, and her son, Zacharay Wade Sutton, 17, who were found dead Thursday morning.
Horn had kept Sandra locked inside a wooden box in the home they shared, until she escaped on April 30. She had been staying with relatives.
Horn is at large and is considered to be extremely dangerous, according to police.
Suspect not found in Sedalia search after woman held captive in box is slain along with her son, on KansasCity.com.
Man who held Missouri woman captive in wooden box now suspected of killing her: Police, on NYDailyNews.com.