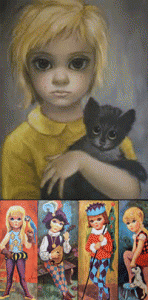 In the 1960s, a series of portraits depicting children with big eyes rocked the art world, selling prints and post cards in the millions. The artist was known to be Walter Keane.
In reality, the one with the paint brush in hand was really Keane's wife — Margaret Keane.  Walter forced to live a prison-like existence, painting behind closed doors and windows for 16 hours a day, alone, with no friends, creating work he claimed to be his.
Margaret went along with the fraud for a while, then confessed the truth to a reporter from the UPI in October of 1970. Lawsuits, mud-slinging and divorce followed.
After publishing his memoirs — full of lies — Walter died in 2000. Margaret won her court case against him, but never saw a dime of compensation from her husband  for her work.
Margaret's story — the true story — is the subject of a Tim Burton biopic, with Amy Adams playing the lead role. Margaret is now 87 years old.
The big-eyed children: The extraordinary story of an epic art fraud, from TheGuardian.com.
Link supplied by a Lovefraud reader.