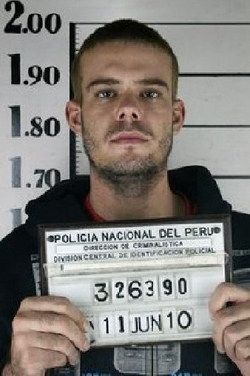 Joran Van der Sloot, suspected in the disappearance of Alabama teen Natalee Holloway, who went missing during a school trip to Aruba, is currently in a prison in Peru, serving 28 years for killing another woman, Stephany Flores.
While in prison, Van der Sloot met a local woman, Leidy Figueroa, and the couple is expecting a child. They intend to marry, which will make Van der Sloot eligible to apply for Peruvian citizenship.
This would prevent him from being extradited to the U.S. for his extortion charges in connection with the Holloway case.
Joran Van Der Sloot to marry pregnant girlfriend in maximum security Peruvian prison as bride-to-be claims killer has "˜transformed into new person', from MailOnline.com